AGR TRANSPORT SRL your specialist for transports complete and partial to and for all Europe.
We offer a logistic service for all your goods with maximum reliability and security. A specialistís team in the sector ensures better routing, appropriate communication and continue information about sending.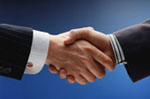 The quality in AGR is the distinctive brand.
Understand clientís needs giving immediate and dynamic responses.